Scenario training made simple
Pilots have flight simulators to practice their jobs. For everyone else, there's Avalanche ST, the simulator for your job, whatever it is.
Find out more
Request a demo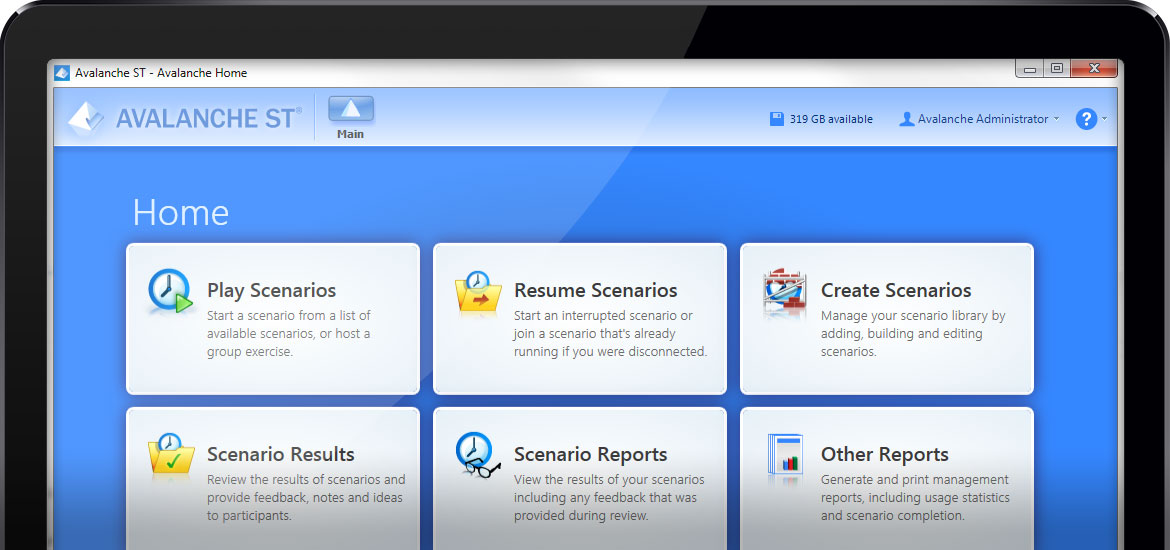 Award winning scenario training software
Avalanche ST is a scenario training e-learning platform that simulates any work environment. It allows users to easily build their own scenarios, and can be used for individual or group training for any role in any industry. Also known as serious games, Avalanche ST brings the benefits of interactive simulations without requiring costly 3D development or programming.
Register to receive a case study
Find out how Avalanche ST is being used for training customer support for critical telecommunications infrastructure at Telstra.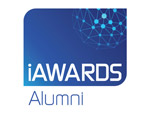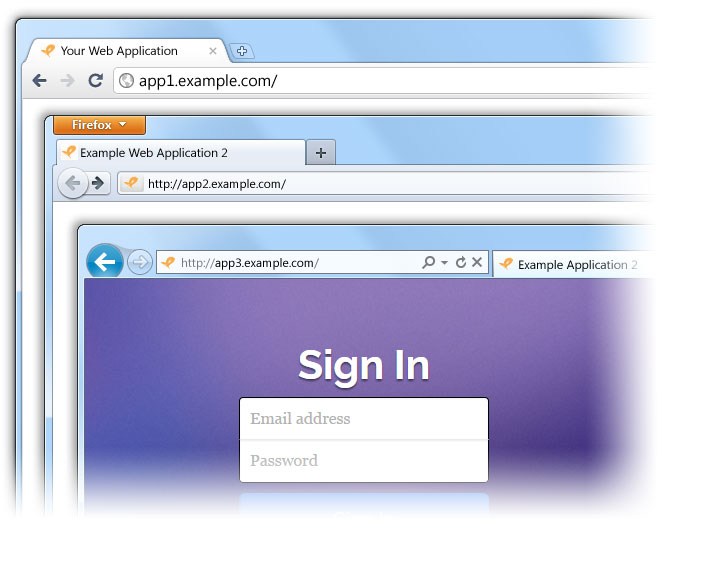 Advanced software simulations
Would you like to train multiple software applications at the same time? Or remove your dependency on live systems, "sandpit" systems, or simple click-through software simulations for training? With Avalanche ST, you can run a separate training instance of your software applications for each scenario. Software simulations can be pre-populated with starting data, which can change during the scenario. In multi-user scenarios, participants can even collaborate on tasks, just like in real life.
Read more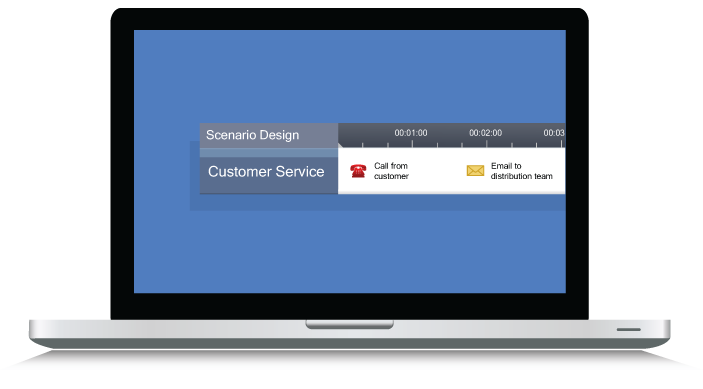 Rapid scenario design and simulation tools
Create scenarios quickly and easily on a timeline with Avalanche ST's intuitive and easy-to-use scenario designer. You can even use Avalanche ST to document and prototype your processes, with the added benefit that people can use them for training, or test if new processes are more efficient or effective.
Learn more about it
What makes Avalanche ST unique?
Avalanche ST bridges the gap between instructional content and virtual environments. It allows trainers to easily build their own scenarios with basic computer skills.
Real-time
Training can involve multiple people collaborating in different roles. Avalanche ST integrates all aspects of a person's role, not just individual tasks.
Communications
Avalanche ST has a simulated phone system, SMS system, email system and 2-way radio system, with everything captured for review.
Flexible
Avalanche ST can be used for any organization or role, and can be used for individual or group training, on your intranet or the internet.
Software simulations
Software simulations can be completely interactive. They can interact with each other, and be dynamically controlled by the sceanrio.
Scenario design features
Avalanche ST gives you simple yet powerful tools for rapidly building any type of training scenario you can imagine - without specialised programming skills.
Conditions
Decide which events happen in the scenario with a simple and powerful condition engine. In a few clicks, you can decide if a customer will call back with a complaint, or you can automatically send a congratulations email when sales revenue for the day exceeds the target. The options are endless.
Side effects
Side effects change aspects of the scenario in response to other actions, like adding a new contact to the phone list when someone calls to introduce themselves. Side effects can also be used when authoring e-Learning content for example automatically launching software simulation windows, or asking someone a question only if they haven't completed a task yet.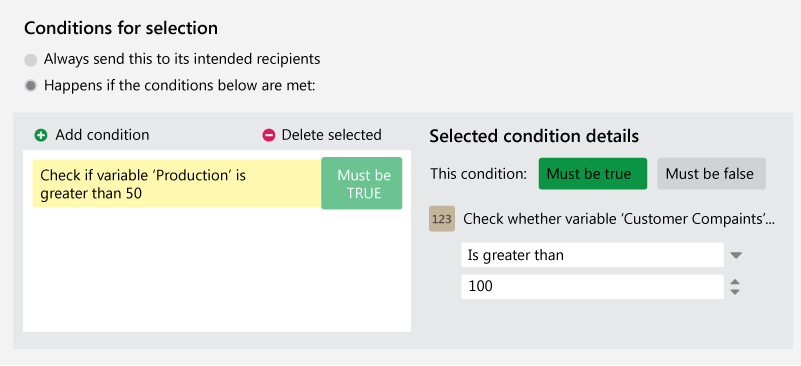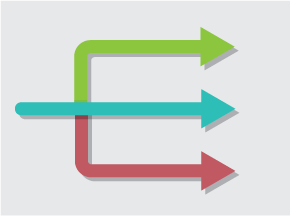 Branch points
Send your scenario down different paths based on a range of different conditions. For example, if you want Avalanche ST to automatically send an email to someone if the number of open support cases is greater than 100, simply create a variable called "Open Support Cases" and a branch point that triggers when it exceeds 100.
Monitoring
When people run through scenarios, everything can be tracked for assessment afterwards. Listen back to their phone calls. Read emails and text messages. Take a screenshot when something important happens. View what people entered into systems. You can record as much or as little as you need to.

Assessment guides
Assessment guides help you automatically review scenario results in Avalanche ST, leading you through the process based on your pre-determined criteria.
For example, score 10 points if someone made a correct decision, or automatically give carefully crafted feedback if they didn't.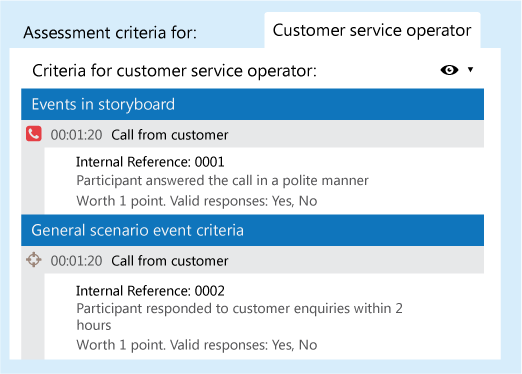 Conversation editor
The conversation editor is a call flow editor toolkit that lets you script interactive conversations with robots - the simulated participants in scenarios. When someone calls a robot, what they say determines the flow of the call according to the conditions and behaviors you build.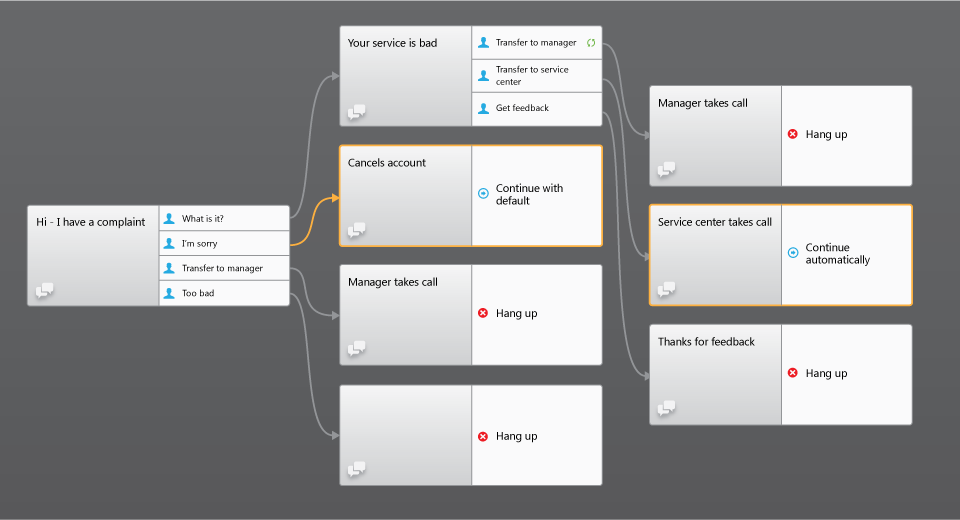 Tailored to your industry
Avalanche ST has been developed with your industry in mind. Everything from content through to report templates can be customised by you with a few clicks.
Transport
Training for dispatch, scheduling, compliance, communication and more.
Financial & Insurance
Training for customer service, compliance, regulatory requirements, financial market simulation, trading and more.
Public Safety
Training for police, fire, ambulance, emergency services, emergency management, emergency communications center operations and more.
Telecommunications
Training for customer service, call taking, complaint handling, leadership training and more.
Education
Collaborative online courses, serious games, e-learning simulations and more.
Mining
Training for dispatch, safety, scheduling, compliance, communication and more.
Health
Training for triage, incident response, scheduling, administration and more.
Defense & Security
Training for command & control, disaster response, leadership training, communication and more.
How is Avalanche ST different to a 3D simulator?
Avalanche ST scenarios play out in a similar way to 3D simulator without the complexity and cost involved in developing 3D scenarios. The simulation is presented to trainees in the form of changes to their work environment - for example the phone rings or an email is received.
Is Avalanche ST a web-based product?
Avalanche ST requires installing a small application to play scenarios - it's similar to products like Skype, WebEx or GoToMeeting. It doesn't run directly in a web browser, however it does run over the internet if you have Avalanche ST Server.
Can I store scenarios in my current LMS?
Yes. You can upload a scenario link file to your LMS, which can be launched on PCs with Avalanche ST installed.
How do I sign up?
Contact us to ask for pricing details or to sign up.
What are the system requirements for Avalanche ST?
To build and play scenarios, all you need is a PC with Windows 7 or newer and .NET Framework 4.5.1. If you are interested in the system requirements for Avalanche ST Server, please contact us for an information sheet.
What support options do I have?
Our subscriptions come with unlimited email support, including software updates while your subscription is active. If you need faster support turnarounds or phone support, ask us about our Enterprise plans.
What types of payment methods are accepted?
We accept VISA, MasterCard or direct bank transfer.
Can I cancel my account at any time?
You can cancel at any time. You will continue to have full access to Avalanche ST until the end of your current billing period.